Boca Raton Chiropractor Dr. Ernest Caruso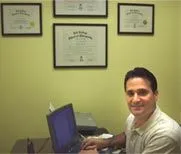 Dr. Ernest Caruso, owner of Boca Health & Wellness Center, has been serving the citizenry of Boca Raton, FL for over two decades. As director and supervisor of the Center, he is committed to improving the health and well-being of his patients through the use of chiropractic care, physical therapy, rehabilitative exercise programs, massage therapy, and ongoing nutrition and exercise plans. Dr. Caruso's practice is focused on providing relief from pain due to spinal misalignment, as well as various types of injury, including accidents and sports injuries. Boca Health & Wellness Center provides personal injury protection, personal injury, worker's compensation, veteran administrations outsource care, and general health insurance claims.
Dr. Caruso is a licensed Chiropractic Physician (Florida CH 7975), is licensed by the National Board of Chiropractic Examiners (Part I-IV, 1998), and also licensed by the Florida Board of Chiropractic and Physiotherapy (1997).
Education
After earning two bachelor's degrees as an undergraduate student, Dr. Caruso went on to earn his Chiropractic Doctorate (DC) from Life University, Brenau School of Physiotherapy, in 1996. In 1998, he achieved certification in Hologics Bone Densitometry.
Work Experience
Dr. Caruso began his chiropractic career as an associate chiropractor and rehabilitative administrator at the Neck and Back Center of South Florida with Dr. Nicholas Ruggiero. He also worked as a radiology technician at Boca Radiology. In 1998, Dr. Caruso opened his own clinic, and in 2004, he became the owner and director of Boca Health & Wellness Center where he continues to serve the Boca Raton community.
Call Boca Health & Wellness Center Today to Schedule an Appointment with Dr. Caruso
If you live in the Boca Raton area and you want a solution for your pain once and for all, contact Boca Health & Wellness Center. Most insurance plans are accepted, and we also offer payment plans to help ensure that our patients receive the care that they need. For more information or to schedule an appointment, call (561) 447-2228, or fill out our online form for a prompt response.