As your trusted chiropractor in Boca Raton, we are proud to offer a wide range of holistic healing services. With a dedication to providing the highest quality of care to patients of all ages and many years of combined experience, our chiropractic care team has the skills needed to relieve your chronic pain and help you reach an optimal level of overall wellness. Whether you were recently injured in an auto accident or you've been suffering from chronic back pain for years, our friendly and knowledgeable Boca Raton chiropractor is here to help!
Your spine is made up of a complex system of bones, ligaments, muscles, tendons, and nerves. Although incredibly strong and flexible, the spine is also at a great risk of injury. Depending on the location of your injury, you may experience different types of back pain.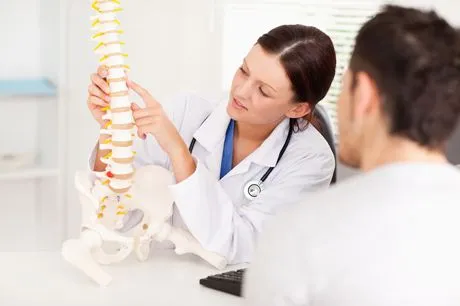 Cervical Spine
The cervical spine or neck is designed to support the weight of the head while allowing for quick movements and proper range of motion. Neck pain is often caused by a strain or sprain in the ligaments and muscles located in the cervical spine.
Thoracic Spine
The thoracic spine is or upper back is designed for motion. Typically, patients do not often experience as much pain or injury in the upper spine, although shoulder injuries and certain joint dysfunctions can result in upper back pain.
Lumbar Spine and Sacral Region
The lumbar spine or lower back is the area of the spine that is most susceptible to injury. The lower back is responsible for a great deal more motion than the upper back and also carries the full weight of the torso. Most instances of lower back pain are the result of muscle strain but can also be caused by common musculoskeletal conditions like degenerative disc disease, sciatica, herniated discs and much more.
Common Causes of Back Pain
Because the spine is such a large area of the body, there are many different reasons that you may experience back pain, including:
Poor Posture
Sports Injury
Degenerative Diseases
Auto Accident Injuries
Heavy Lifting
And More
Chiropractic Care Treatment
Chiropractic adjustments can help to relieve back pain quickly while reducing inflammation, restoring the natural range of motion and promoting faster healing. By targeting the root cause of your back pain, instead of simply treating your symptoms, our chiropractor can provide you with long-term relief for chronic back pain. This hands-on and drug-free treatment option is safe and effective enough to be used to treat patients of all ages.
Schedule an Appointment with our Chiropractor in Boca Raton
Interested in learning more about chiropractic treatment for back pain? Call (561) 447-2228 or contact us online today to schedule an appointment with our experienced and caring Boca Raton chiropractor.