The carpal tunnel is a narrow passageway that runs from the palm of your hand to your wrist. If this nerve is compressed, it can cause carpal tunnel syndrome. This condition can make using your hands difficult and painful. Fortunately, the professionals at Boca Health & Wellness Center can help.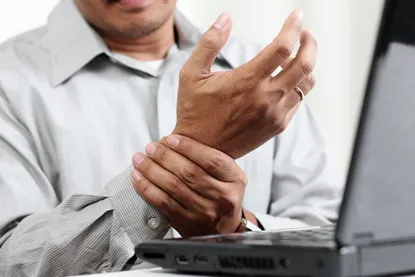 Who Is At Risk For Carpal Tunnel Syndrome?
Anyone can develop this condition; however, certain factors can increase your risk of developing it.
Gender: Women are more prone to this condition than men because their carpal tunnel is smaller than a man's.
Your job: If you have a job that requires frequent and repetitive flexing of the risk, it can increase the risk. If you have a job that requires you to use a vibrating tool, it can also increase your risk. Poor work ergonomics are also a major risk factor.
Arthritis: Arthritis can increase the risk of developing carpal tunnel.
Previous injury: If you fractured or dislocated your wrist in the past, carpal tunnel syndrome can occur.
Your weight: If you are overweight or obese, the risk increases.
Nerve damaging conditions: If you have a condition that can damage the nerves, such as diabetes, your risk is greater.
Medical conditions: Thyroid disease, rheumatoid arthritis and kidney failure can all increase your chances of developing this condition.
What Are the Symptoms of Carpal Tunnel Syndrome?
The symptoms of carpal tunnel syndrome come on slowly. In the early stages, you will experience numbness in the thumb and the first two fingers. You will notice that the numbness comes and goes. As the condition worsens, you can experience wrist pain and pain in your palm. Also, the pain can shoot up your arm. In the later stages of the condition, your hand will become weak and the pain and numbness will be more frequent.
How Is Carpal Tunnel Syndrome Diagnosed?
Your doctor will ask about your symptoms and perform a physical exam. They will want to test the feeling and the strength in your hand. To determine where the pain is, they will bend and tap on your wrist. If your doctor suspects that you have carpal tunnel, they will order a nerve condition study. This test will diagnose carpal tunnel, and it can also help rule out any other condition that could be causing your pain and weakness. To rule out other conditions, your doctor might also order x-rays to check for broken bones. An electromyogram might also be ordered to check for muscle damage and to rule out other conditions.
How Is Carpal Tunnel Syndrome Treated?
A chiropractor can treat carpal tunnel syndrome. Because the median nerve originates in the cervical spine, a spinal adjustment can reduce the pressure on the nerve. Your chiropractor can also manipulate the wrist and elbow to relieve the pressure and the pain. You may also need to wear a wrist brace for support. In severe cases, surgery might be necessary.
Call Boca Health & Wellness Center Today!
If you are experiencing the symptoms of carpal tunnel syndrome, schedule an appointment with Boca Health & Wellness Center. After your first visit, you should start feeling some relief. To book your appointment, give us a call today.