Often the culprit behind complaints of neck and back pain is degenerative disc disease (DDD). Patients who visit our Boca Health & Wellness Center can look forward to relief through both treatment and education. Our Boca Raton chiropractor uses only therapeutic options that avoid medication or surgery to improve our patients' health.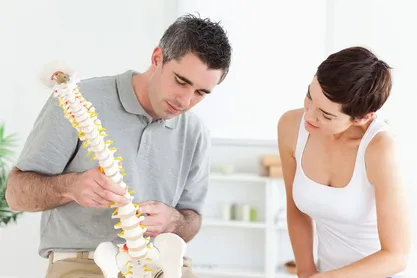 What is Degenerative Disc Disease?
The expression degenerative disc disease is a misnomer. Rather than designate a disease, the term refers to symptoms of back or neck pain. The cause is natural wear and tear of discs, most often related to advancing age. Fortunately, most sufferers do not develop a long-term disability.
Neck or back pain is often the result of how a degenerating spinal disc affects other structures of the spine such as nerve roots, muscles, and joints. Our chiropractor notes that the three primary causes of discomfort include:
Spinal joint degeneration that disturbs spinal mechanics
Pressure on spinal nerves due to bulging of thinning and degenerative discs
Spinal stenosis (leg and back pain)
Additional patient complaints include a sensation that their neck is somehow giving out and greater pain when they are lifting, bending, or twisting. Many report that pain diminishes after they change positions. Radiating pain described as sharp, stabbing, or hot in the hips, buttocks, back, arm, or hand is also common.
How Chiropractors Treat Degenerative Disc Disease
The goal of our Boca Raton chiropractor in treating DDD is improving the mechanics of the patient's joints by boosting spinal motion while reducing inflammation. The path to recovery begins with a comprehensive physical exam, a discussion of health history, and an assessment of patient complaints and symptoms. Sometimes imaging such as X-rays or MRI scans is helpful.
Once diagnosed, everyone receives a customized treatment plan that might include a combination of non-invasive therapies and patient education. The most common chiropractic therapy for DDD is the use of spinal manipulation, also called spinal adjustment.
Adjustments quickly help relieve back pain while reducing inflammation, restoring range of motion, and promoting healing. This non-invasive type of therapy is safe for patients of all ages.
Schedule a Consultation with Our Boca Raton Chiropractor
Our Boca Health & Wellness Center team provides patients with freedom from pain along with a path toward maximum wellness. Whether you suffer from neck or back pain, headaches, or other types of discomfort or are looking for a better quality of life, our Boca Raton practice can help. Take a moment to call us today at (561) 447-2228 to schedule an appointment with our chiropractor, Dr. Ernest S. Caruso, and learn how chiropractic can change your life.